Summer Bible & Breakfast (High School)
Summer 2012
This year we are trying something different. We've seen this past year how much better people learn in smaller groups rather than larger groups and so we want to incorporate this into our summer youth discipleship. So we are asking people to sign up to be included in what we are calling Breakfast and Bible. If you call, text or email me I'll put you on a list and we'll invite you to our home for Breakfast and Bible study throughout the summer. If you are nervous about who you'll be with just tell me one other person you'd really like to be with you and I'll make sure we invite you both at the same time.
We'll have multiple groups of about 5 or 6 over at a time around 8:30 or 9 am depending upon the day, but we'll do this a few times each week that is not already full with camp, oasis mission trip or VBS. Only thing you'll need to bring is a Bible. So we'd love to have you take part in this so please email me at bhough@redeemer-pca.org or call/text 913-439-9319 today.
Summer 2011
We read Just Do Something last summer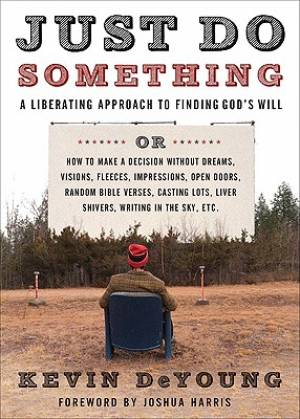 Summer 2010
We read Crazy Love by Francis Chan
This year we are reading Crazy/Love by Francis Chan. The book brings readers to consider if their life in Christ is full of apathy and lukewarmness while at the same time challenging each reader to pursue Christ wholeheartedly with joy that is genuine. I believe this will foster worthwhile conversation about how we view Christ's rule over every aspect of our lives. Books are available on counter in youth room and cost $10. Please read chapter one before our first meeting June 2nd. We'll meet in the South Building at Redeemer (white house up the hill from the sanctuary)


Summer 2009
Summer of '09 we studied I Kissed Dating Goodbye by Joshua Harris. Each week students read two chapters and we discussed in groups broken down by gender and age a series of questions. Below are the questions we've put together used to guide discussion each week (one week is missing).
I Kissed Dating Goodbye Discussion Questions in PDF
Summer 2008
Do Hard Things Study Guide PDF